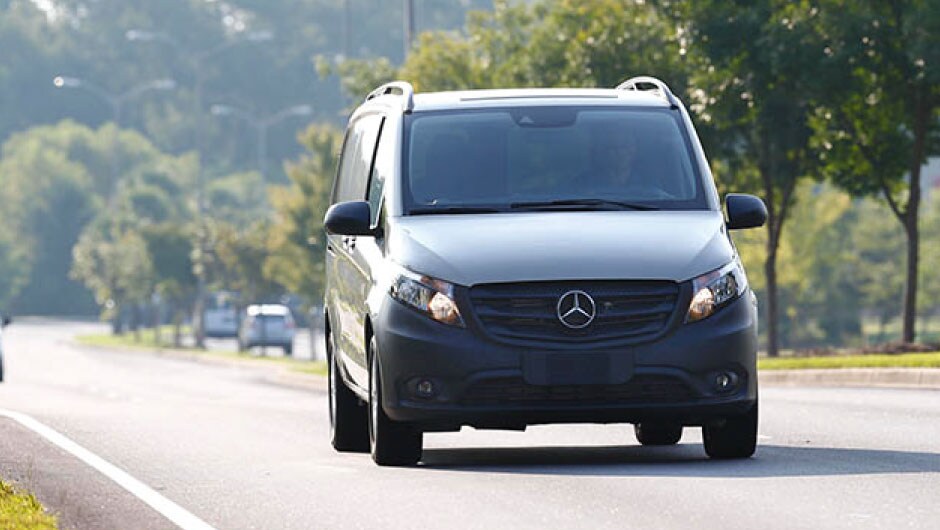 Metris. The Mid-Sized Van That's Got Your Back.
Looking for the Mercedes-Benz experience in a mid-sized van? Look no further. With available safety, comfort, and communication options Metris is with you all the way.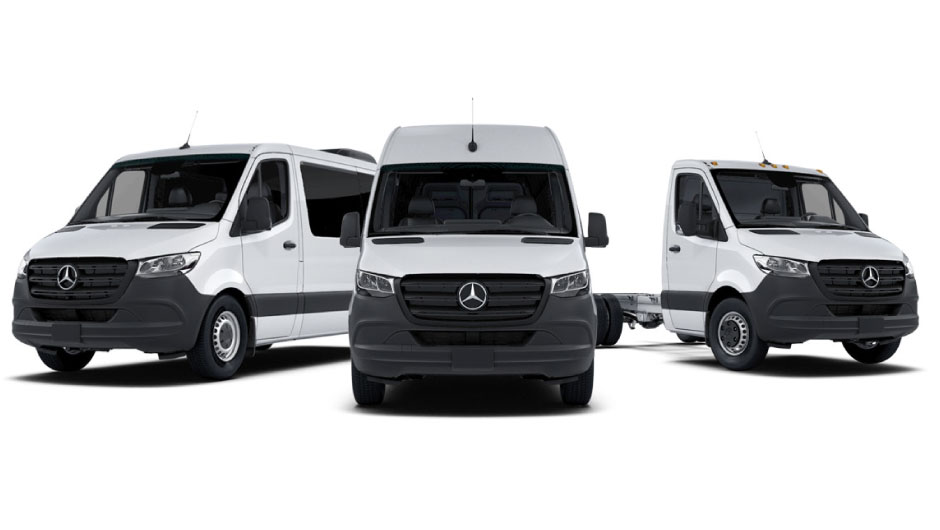 Step it Up with Metris
If you're looking to get better organized, provide better service and elevate your brand to your clients, a Metris mid-size multi-purpose van might be exactly what you're looking for. [1]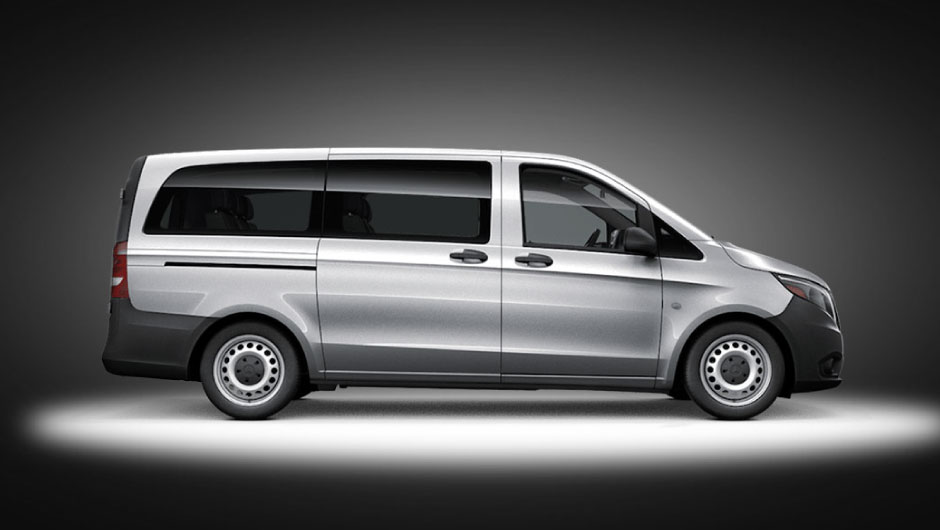 Carry Cargo, Passengers, or Somewhere In-Between 
Mercedes-Benz Metris vans are designed for flexibility - so you can use yours the way you want to. Each has Mercedes-Benz quality, connected technology, and advanced safety features.
Safety
Every Mercedes-Benz van is equipped with the innovative safety features that keep you, your crew, and your passengers as safe as possible, so you can concentrate on getting the job done. [2]
Crosswind Assist

Detects when a crosswind has affected your driving line and corrects the course of your vehicle, reducing the chance of you moving into another lane or off the road. [3]

Load Adaptive Electronic Stability Program 

Enhances stability on slippery or challenging roads by braking and reducing engine power when understeer, oversteer, or wheel spin are detected - helping you regain control. [4]

Attention Assist

Monitors your driving patterns for signs of fatigue, and gives you an early warning to help you stay awake on the road. [4]
  
  
  

Rescue Assist

If there's ever an accident, this QR code can help first responders find the best way to access passengers without cutting into the fuel tank, batteries, air bag, or energized circuit.

Blind Spot Assist

Uses radar technology to monitor the areas alongside and behind the car, warning you when changing lanes would be too dangerous.

Rearview Camera

Maneuver and park with confidence, because you can see exactly what's behind your van with the rearview camera display on your dashboard.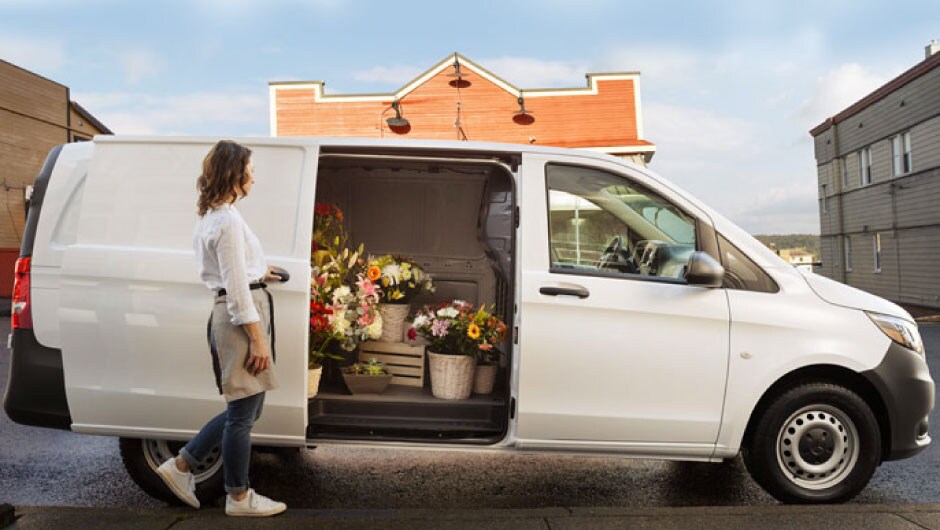 Performance
The Metris is the total package - tough, powerful, efficient, and flexible. It can handle any condition your day throws at you.
The Right Engine for the Right Job
A turbocharged, 4-cyclinder, 2.0 liter direct injection gasoline engine with a 7-speed transmission. It's a thing of beauty that gets you where you're going. [1]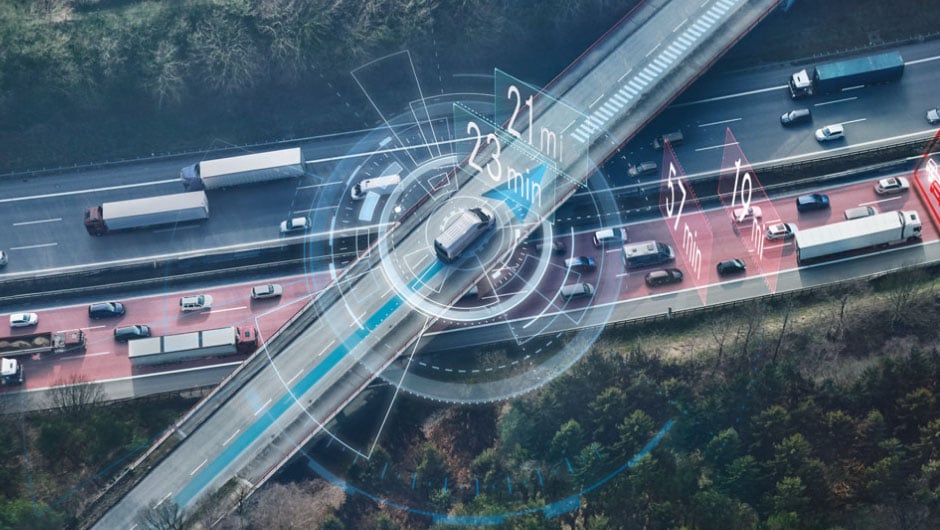 Connectivity
With new connectivity features, it's easier than ever to stay in touch with people and information that move you forward.
Mercedes PRO Connect
Keep your drivers, managers, and vehicles connected with intelligent technology that improves productivity and drives your business ahead. [7]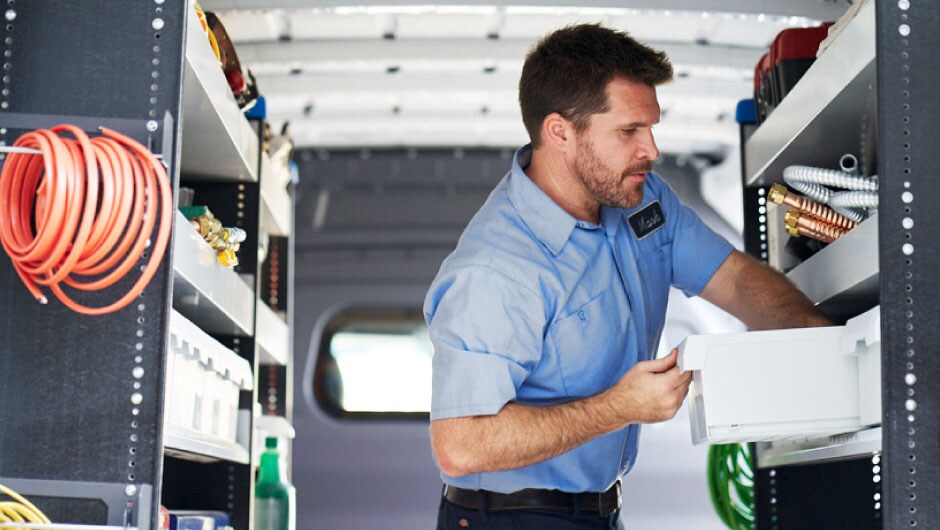 Mercedes-Benz Expert Solutions
No van upfits like Mercedes-Benz Sprinter or Metris van. Whether for business or pleasure, Mercedes-Benz offers superior capabilities designed to fit your needs, no matter what they may be.
Disclaimers
 Models shown may include options/packages not standard on a MY21 Sprinter or MY21 Metris. Specifications are subject to change.
1 Models shown may include options/packages not standard on a MY21 Metris. Specifications are subject to change.
2 From a speed of 80km/h.

No system, regardless of how advanced, can overcome the laws of physics or correct careless driving. Please always wear your seat belt. Driver's deliberate steering inputs will override the system's intervention.
3 Details & Technology
ESP® interfaces with both the braking system and the engine management. It continuously monitors the signals from the steering angle sensor, wheel sped sensors, lateral acceleration sensor and yaw sensor, allowing it to assist the driver by generating braking forces to restore directional stability. In critical situations, ESP® actively intervenes in the engine management and braking system, and assists the driver by generation braking forces to restores directional stability. Other functions are: Antilock Braking System (ABS), Acceleration Skid Control (ASR), Start-off Assist (AAS), Brake Assist (BAS®), Brake Disc Wiping (BDW), Electronic Brake Force Distribution (EBD), Electronic Brake Prefill (EBP), Electronic Stability Program (ESP®), Enhanced Understeering Control (EUC), Load-Adaptive Control (LAC), Engine Drag Torque Control (MSR), Roll Movement Intervention (RMI), Roll Over Mitigation (ROM), Crosswind Assist (SWA).

No system, regardless of how advanced, can overcome the laws of physics or correct careless driving. Please always wear your seat belt. Performance is limited by available traction, which snow, ice and other conditions can affect. Always drive carefully, consistent with conditions. Best performance in snow is obtained with winter tires.
4 Driving while drowsy or distracted is dangerous and must be avoided. ATTENTION ASSIST may be insufficient to alert a fatigued or distracted driver of lane drift and cannot be relied on to avoid an accident or serious injury.
5 Blind Spot Assist is a warning system only, and may not be sufficient to avoid all accidents involving vehicles in your blind spot and does not estimate the speed of approaching vehicles. It should not be used as a substitute for driver awareness and checking of surrounding traffic conditions. See Operator's Manual for system operating speeds and additional information and warnings.
6 Rearview camera does not audibly notify driver of nearby objects and is not a substitute for actively checking around the vehicle for any obstacles or people. Images displayed may be limited by camera field of view, weather, lighting conditions and the presence of dirt, ice or snow on the camera.
7 Mercedes PRO is available for the Contiguous US, Hawaii, and Alaska with the Metris (as of September 2019 production, MY 20). Contact an authorized Mercedes-Benz dealership for more information. In order to prevent distracted driving, the use of the Mercedes PRO connect App is not permitted while operating a motor vehicle in order to prevent distracted driving. If used while operating a motor vehicle, there is an increased risk of endangering oneself and others. Please follow your local laws and restrictions. The availability of services in addition to the integrated Communication Module for Digital Services (LTE) depends on the network coverage of the mobile network provider. The Communication Module for Digital Services (LTE) is not available in the US Virgin Islands or Puerto Rico.
8 Mileage represented is with available ECO Start/Stop operating. Please see your dealer. Compare the estimated mpg to the EPA estimated mpg rating of other vehicles. Please see www.fueleconomy.gov for details. You may get different mileage depending on how fast you drive, weather conditions, and trip length. Your actual combined mileage will probably be less than the combined estimate. Please be advised that 91 Octane premium gasoline was used for fuel economy testing and fuel economy certification.
9 Driver is responsible for monitoring fluid levels and tire pressure between service visits. See Maintenance Booklet for details.
10 Models shown may include options/packages not standard on a MY21 Sprinter. Specifications are subject to change.